FTMW - Filipino Tribe Mission Welfare
Mamanwa Pantukan. The industrial tribe!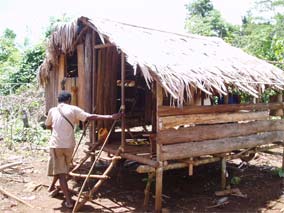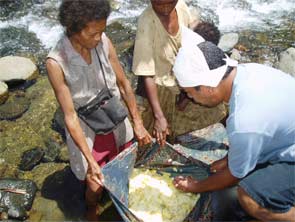 The Mamanwa tribe which has settled down outside the small village of Pantukan in Surigao del Sur, the tribe we call Mamanwa east, has shown an enormous developed inventiveness in spite of that they never had bent educated in school or had a permanent settlement but, bent roaming around in the jungle between their plantations. Until the new year of 2005/2006 the tribe has been roaming around in the jungle without any permanent address. When representatives for the tribe raised the question about the possibility to get help with food and education for their children with the president of FTMW Pastor Morales, he said to them to consider the possibility to create a permanent living, and as he added; -if we register your children and receives a sponsor for them, how will we be able to find you if you have no living any place?

The tribe observed this and we has now the privilege for the first time in history (even if we are a small newly founded organisation) to show a settlement created by the hands of the Mamanwa tribe themselves.

Settlements

for Mamanwa exist both in Taganito and Urbitztondo as well, but in these cases has a company built up the houses. On other places has local government units contributed.

| | |
| --- | --- |
| | The land were they has settled down is owned by a man belonging to the tribe of Manobo. He is very positive to that Mamanwa finally want to settle down, why he has given them space both for settlement and cultivation. |
| | Mamanwa builds their houses in two floor levels. The lower works as a living room while the upper is a sleeping room. Under the sleeping room on the ground they light up a fire which live coal keeps the mosquitoes away but also keeps them warm during the colder night. |
| | Mamanwa uses a root that in the language Suriganon is called Koyot and in the language Visaya is called Korot. This root is very toxic and must be worked up before it is eaten. Mamanwa uses it as a basic food like mostly Filipinos use rice. Filipinos in common is very sceptic to eat this root since it is deadly if not correctly cooked. |
| | On a secluded place in the jungle between the village and the river is built a kind of parboiling plant to prepare the root to be edible. |
| | First step is to peel the root and boil it, then it is held down in a hole in the ground wrapped in banana leaves where it is kept for cooling down. |
| | When it is cooled down the root is packed in bags and carried over a bridge of lumber down to the river where it is properly rinsed. |
| | When this process is finished, the root is edible. Considering that the members in the tribe is illiterate and never has received any education at school, it is soon to understand that mans ability to find solutions on problems is not only based in its academically ability but is an unique gift in every person. |
| | Land that has been prepared for cultivation. |

If you find this work interesting, you are very welcome to become a donor.

---

Donations can be swished in Sweden to:

9004599

or paid to us in EURO or SEK on followed account:

90 04 59-9

SEK/EUR 90-account

IBAN SE31 9500 0099 6042 0418 2960
SWIFT (BIC-Code): NDEASESS

Bank: NORDEA Sweden

For further information, please contact:

FTMS Filipino Tribe Mission Sweden Reg. No: 802422-2393

Att: Klaveness


Örngränd 3
681 43 Kristinehamn, Sweden

Phone

:
+46 760 675 238

Cell Phone

:
+46 705 987 266

E-mail:

ftms@tribemission.com
SWEDEN
WORLD & EUROPE €

PG 90 04 59-9 SEK & EUR

123 - 9004599 Swish

Bg 900-4599
Print if payment is in SEK or EURO

Bank: NORDEA Sweden

IBAN SE31 9500 0099 6042 0418 2960
SWIFT (BIC-Code): NDEASESS

FTMW Filipino Tribe Mission Welfare Inc. Philippines Reg. No: CN200525494

FTMW Office

Roaming

:
+63 921 274 3904 Smart

Mob.

Phone

:
+63 910 139 7436

E-mail:

ftmw@tribemission.com

Send E-mail if you have queries or comments about this website.