Faith Christian Life Center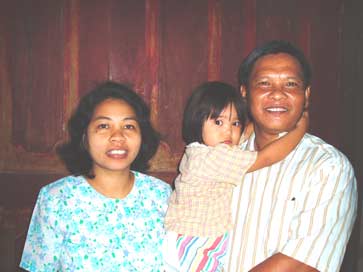 Picture Gallery
In this page information will be given about

Pastor

family

Lorenzo T. Quintas

and his Assembly of God church, Faith Christian Life Center in Prosperidad.

Pastor Lorenzo T. Quintas has worked almost 19 years in pastoral ministry. He finished His Bachelor of Arts, possessed a Formal Theological Education and is presently ministering in Prosperidad, Agusan del Sur in the Philippines. Currently he took part time job as a College Instructor in Saint Francis Xavier College, San Francisco, Agusan del Sur for the purpose of survival in the ministry.

Pastor Quintas is, as a duly elected Assistant Director in the board of Lifestyle Bible College School together with pastors from All The Gospel Ministries Inc also, working to find solutions for education for the people in the province of Agusan del Sur. He work with tribal pastors as well as other to give education to the people.
Donations can be swished in Sweden to: 9004599

or paid to us in EURO or SEK on followed account:
90 04 59-9

EUR

90 04 59-9

SEK

IBAN SE31 9500 0099 6042 0418 2960
SWIFT (BIC-Code): NDEASESS

Bank: NORDEA Sweden
For further information, please contact:
FTMS Filipino Tribe Mission Sweden Reg. No: 802422-2393

Att: Klaveness


Ekgatan 7B
S213 63 Malmö, Sweden

Phone

:
+46 40 497 969

Cell Phone

:
+46 705 987 266

E-mail:

ftms@tribemission.com
SWEDEN
WORLD & EUROPE €

90 04 59-9 SEK & EUR

9004599 Swish

Bg 900-4599
Print if payment is in SEK or EURO

Bank: NORDEA Sweden

IBAN SE31 9500 0099 6042 0418 2960
SWIFT (BIC-Code): NDEASESS
FTMW Filipino Tribe Mission Welfare Inc. Philippines Reg. No: CN200525494

FTMW Office:

Roaming

:
+63 921 274 3904 Smart Roaming

Cell Phone

:
+63 910 139 7436

E-mail:

ftmw@tribemission.com
Send E-mail if you have queries or comments about this website.